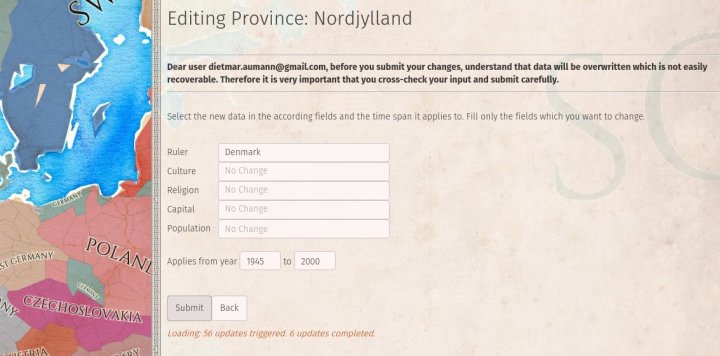 Moderators of the history application can now edit provinces and add or modify rulers, cultures, religions and capitals. This is an important step towards the final goal of making Chronas completely editable by its community - just like Wikipedia.
This basic province editing feature allows the main dimensions to be edited:
Ruler
Culture
Religion
Capital
Population
If you are interested in moderating, become a member of Chronas and tick the Generally interested in moderating and Moderate history data box in your profile. We will send you an email and create a privileged account for you.
Getting Started
Once we created the account for you, login at the dedicated history application site at http://chronas.org/app/admin
Change your password at http://chronas.org/app/admin/password_change/ (you can close this tab, but

do not logout

before you have finished your edits)
Open the history application as usual at http://chronas.org/history
Select a province you want to modify
In the right upper corner, click on the pencil symbol
Fill the new data in the according fields (only the fields which you want to change)
Select the time span (start and end year)
Optionally click on provinces on the map to include additional provinces in the update
Click "Submit" and wait for all updates to finish before you start a new update process (4-5)
You can also add or edit meta fields (ruler, culture, religion, capital entities)
Click on the Edit Meta tab
Either add new meta entities by defining the display name (this is what text will be drawn on the map and must be different from already existing ones) plus the area color and full Wikipedia link: e.g. https://en.wikipedia.org/wiki/English_people

For new religions, additionally to Name, Color and URL, also the according main religion has to be specified. E.g. Catholicism -> main religion is Christianity

Or modify an already existing meta entity by first selecting the name of the entity you want to change and then modifying the specific attribute (name, color or link) you want to change
Both add and modify operations are triggered by clicking the Submit button at the bottom of the forms
In late January, I will add a short movie clip explaining the process.
Next up on the development list are adding/ modifying markers...